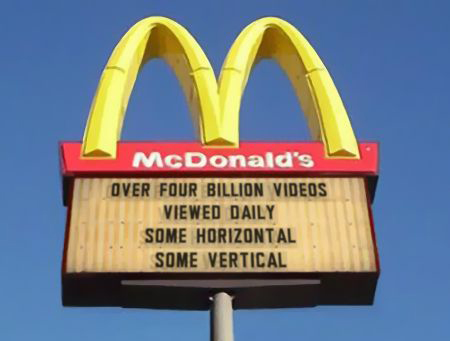 Planning on shooting video, in particular short-form video, including advertising? Are you shooting (a) horizontally or (b) vertically? The only correct answer to this seemingly silly question is (c) all of the above.
As summer draws to a close, we return to rethinking, well, everything in entertainment. In these parts, we've talked Jetsons Future and media convergence until we're blue in the blog face.  We've talked rethinking film and television through the eyes of Kevin Spacey. We've talked rethinking talent acquisition. We've talked rethinking print. We've talked rethinking the future of radio talent.
Related post: What Clear Channel's Rebranding Says To Talent
Now that camera phones have made filmmakers of us all – even if most of us are simply making films showing our adorable kittens and puppies – another critical rethink is upon us: we're heading into the era of responsive video production.
Y'see, the "pros" have a simple way of differentiating themselves from the amateurs: they know how to shoot video correctly. What do I mean? Only a true professional knows that vertical videos – the ones that people shoot with their camera phones held upright – are, at least in the words of the nice people who made this charming little video, "no f&#@ing good".
Just one problem: with video viewing on vertical (in other words, smartphone) screens up sevenfold in the last five years and now accounting for 29% of all video viewing, vertical videos are now, to paraphrase that not-at-all-arrogant video I just linked to, really f&#@ing important.
That's why a few slightly-important players – WPP, Snapchat, the Daily Mail – created a vertical video agency this summer. Oh, and they're not alone.
An important note: if you look at the entirety of that Mary Meeker Internet Trends slide showing mobile video use being up sevenfold, you'll observe that TV and PC video viewing are flat over the same period. Mobile video is not cannibalizing any other video usage in the least; it's creating all-new consumption.
All-new consumption means all-new opportunities, and those opportunities don't have to cannibalize existing ones.
On a related note, that's why it's disappointing to see the ongoing freakout in film exhibition over the move to shrink the window between theatrical and digital release, particularly when it involves something as time-sensitive as horror movies in October.
Related post: If You're Not Failing, You're Not Trying: Entertainment Failure → Entertainment Success
In our new Jetsons Future media world, you've got to think differently.  How differently? Well, Instragram is now strongly impacting the sale of fine art.
Thank about that. Christie's and Sotheby's are now using the home of selfies to sell fine art.
Two conclusions, both of them ridiculously important:
If the patrician world of fine art can use Instagram – the medium of the photographic hoi polloi – to market itself, perhaps the leaders of the film exhibition world should consider stooping to acknowledge that consumers are going to watch films on screens that you don't like. Bearing in mind that digital consumption isn't reducing the demand for traditional consumption – instead it's driving increased demand for content consumption – perhaps you should welcome the continue shrinking of windows, which is going to happen whether you welcome it or not. In the end, consumer demand wins, and consumers are demanding shrinking windows. This creates a business opportunity for you, not an obstacle!

If you're making audiovisual content, you'd better start thinking both vertically and horizontally. People may not be watching long-form content vertically (though, then again, some are), but they're watching plenty of short-form content that way.  If you're expecting viewers to watch your YouTube videos, or commercials (or "TV" shows for that matter) on smartphone screens, you should be shooting for smartphone.  Of course, since you'll always expect viewers to watch your videos on television sets and computer monitors, you'll need to shoot horizontally. (And if you're assuming you know how users will watch your video on their tablets – landscape or portrait – you're assuming way too much.)
The best websites are now designed responsively; they reshape themselves to conform to the screen you're viewing them on.
If the era of responsive video production isn't upon us, it will be here soon enough.  Are you prepared for it?